Property Management Process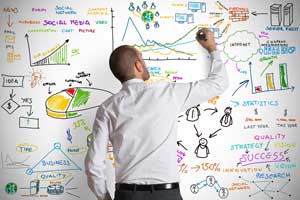 Processes are the heart to every business. In addition to a solid foundation, you need policies, procedures, processes, workflows and best methods. We can help build on what you have. Create what you need and present actionable solutions for your success. We help close gaps and provide documentation to help your business run more efficiently. Too many times people forget that in order to set your business up for growth, you have to have standard operating procedures to help build on. As you grow you can continue to build on your processes that are more complex and develop systems that are automated and structured to run a set of processes without you. Systems are policies and procedures that employees can implement and manage with repetition, without you having to hover, where you can instead position yourself to take time off or run your business development piece for growth.
The first step to any business strategy is to determine your end goals. Not everyone's goal is always 'growth', but it may be to 'improve customer relations', 'run a more efficient office' or 'setting up processes and procedures'. Once the goal is established and recognized, it is crucial to round up the data to help make factional and actionable decisions. By providing a S.W.O.T. Analysis of your business, we can help recognize areas in your business for strategy, growth and opportunity; help analyze structure and needs and build on areas for improvement with respect to processes and procedures. If we can build it, you can use it.
There are many processes that help a business with both growth and success. How you present your business to your client and how you build on that relationship going forward are crucial to your bottom line. Taking your business to the next level is something we can help you with. Providing insight and solutions to everyday roadblocks and helping you develop action plans, best methods and processes to help your business run more smoothly and efficiently. Our solutions, when implemented will help you sleep better at night.
We help and break down your business structure and foundation, help fill the cracks and present process workflows needed to have a successful company. A lot of people start running their business (literally) without having developed the tools that are needed to start walking and bringing a solid close to the finish line. We provide you all of that. Our gift is bringing solutions to your needs. Providing the resources you need to take you to your next goal.
Are your processes clearly defined and are they efficient or redundant? Let us dive into your processes and identify areas to reduce redundancy and improve efficiency.
Business Strategy

Helping companies tailor and craft a comprehensive and effective business plan for growth and stability.

Policies/Procedures

These tools are the foundation of a healthy, strong and functioning business. We bring answers to your needs to build a strong bedrock of policies.

KPI's & Metrics

We help you understand the information your system provides and show you how to measure and forecast for your business.