Property Management Technology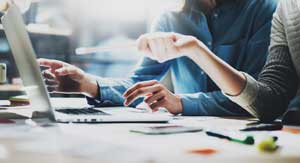 Technology today is as vital to your business as your employees are in helping manage and run it.
We help also establish core applications to help run a more efficient company, whether you have 1 employee or 30; do you have the necessary tools to help them understand your goals? Powerful technology and systems in place can be very useful in establishing the foundation to building your brand. Choosing the right technology can mean capturing business that before wasn't possible and having the needed leverage over your competition.
It is important to recognize and assess your competition. Most times what you lack in one area, your competition is excelling in. It's smart business to assess and re-evaluate your business each year. To know how you are positioned against your competitors, and how you stack up in your offering of services. How do you stay ahead of the game? Are you a technology forward thinking company? Have you changed or implemented something new into your business in the last 6 months? The answers to these questions are vital for your growth and success in the market, and technology plays a key role in making this all happen. We can help tailor and help you get started on the crucial foundation needed to help position you to have the backbone essential for your company.
We also help bring solutions for all areas of the property management business. From marketing (both the company and listings) to website development solutions, lead generation and nurturing products, call-center solutions for each area (as needed), scheduling, software solutions and training, 3rd party process solutions, payroll, CC processing needs, and much, much more. Our long-standing relationships in the industry have allowed us to find the best results for your business needs.
The world of technology is fast paced and ever changing. Are you up to date? Are you paying to much for the technology you use?
Business Systems

We dissect each system in place and solutions to run a more effective company. Helping design and develop processes and workflows and connecting companies to bring results.

Marketing Solutions

Helping you find the best state-of-the-art technology to bring your company into today's fast thinking tech market.

Communication Tools

80% of property management is communication. So having the right tools in place is critical. We help solve these problems.